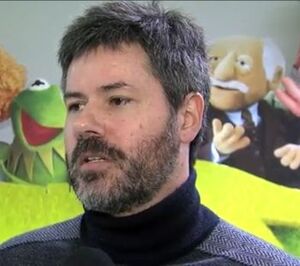 Paulo Ooom (b. 1966) is a Portuguese voice actor who dubbed Gonzo, Waldorf, the Swedish Chef, and others in Os Marretas (The Muppets), as well as the Portuguese dub of Muppets Most Wanted.
Oom has been the official voice of Bugs Bunny in Portugal since the 1990s, directed the dubbing of Shrek and voiced Puss in Boots and Pinocchio in the franchise and spin-offs, and dubbed Fred Flintstone on The Flintstones and Dr. Scratchansniff on Animaniacs. Animated feature roles include Pongo in 101 Dalmatians, Scuttle in The Little Mermaid, Wiggins in Pocahontas, Heimlich in A Bug's Life, Mr. Big in Zootopia, and Dean McCoppin in The Iron Giant. Live-action assignments include dubbing Jim Carrey in How the Grinch Stole Christmas, David Tomlinson in Mary Poppins, Jamie Kennedy in Son of the Mask, and the March Hare in the Tim Burton Alice in Wonderland movies. He dubbed the non-Muppet puppets Leon on Puzzle Place and the title character on Crash & Bernstein.
On-camera, Oom has frequently appeared in Portuguese telenovelas since the eighties.
Muppet dub credits
External links