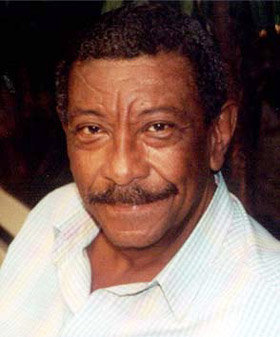 Paulo Flores (1944-2003) was a Brazilian voice actor who dubbed the Portuguese voices of Sam the Eagle in multiple movies and B.P. Richfield in the Dinosaurs dub, among other projects.
Possessing a deep and commanding voice, Flores often dubbed either villains (including Audrey II in Little Shop of Horrors) or characters with authority or dignity (Mufasa in The Lion King). He dubbed Michael Clarke Duncan in several films, Bill Cobbs (in three films), Telly Savalas (as Blofeld in On Her Majesty's Secret Service), Richard Griffiths in The Legend of Sleepy Hollow, and B.B. King in Spies Like Us.
TV assignments included Avery Brooks on Star Trek: Deep Space Nine, Mark Metcalf as the Master on Buffy the Vampire Slayer, and Lord Zedd in the Power Rangers franchise. In animation, he voiced Bluto in the Popeye cartoons, Chief Wiggum and Dr. Hibbert on The Simpsons, Taz in multiple projects, Killer Croc on Batman: The Animated Series, and the gorilla and Droopy in Who Framed Roger Rabbit?
Muppet/Creature Shop Dub Credits
Ad blocker interference detected!
Wikia is a free-to-use site that makes money from advertising. We have a modified experience for viewers using ad blockers

Wikia is not accessible if you've made further modifications. Remove the custom ad blocker rule(s) and the page will load as expected.