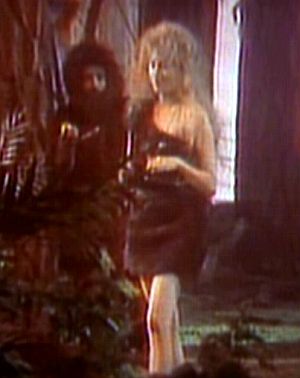 Paula Marshall (b. 1964) is an actress who appeared in the Dinosaurs episode "Employee of the Month," as a comely female caveperson in a nature documentary.
Marshall has been a regular on several short-lived series, including Cupid (as psychiatrist Claire Allen), Snoops, Cursed, and Out of Practice, and has had recurring guest roles on Spin City, The Wonder Years, and Veronica Mars. Other TV guest credits include spots on Seinfeld (as reporter Sharon in "The Outing," who prints the story that Jerry and George are gay), Diagnosis Murder, and Superboy. Film credits include A Family Thing (with James Earl Jones and Irma P. Hall) and Cheaper by the Dozen (with Steve Martin).
External links
Ad blocker interference detected!
Wikia is a free-to-use site that makes money from advertising. We have a modified experience for viewers using ad blockers

Wikia is not accessible if you've made further modifications. Remove the custom ad blocker rule(s) and the page will load as expected.