Ad blocker interference detected!
Wikia is a free-to-use site that makes money from advertising. We have a modified experience for viewers using ad blockers

Wikia is not accessible if you've made further modifications. Remove the custom ad blocker rule(s) and the page will load as expected.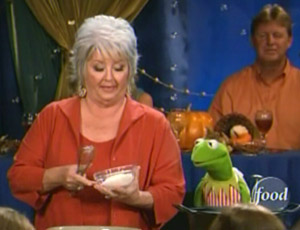 Paula Deen (b. 1947) is the host of Paula's Party, a cooking show on The Food Network. Over the years, several Muppets have lent her a hand/flipper, including Kermit the Frog and Elmo.
Elmo's appearance in the February 23, 2008 "Black & White Ball" episode prompted an exchange between Paula and Elmo about Jim Henson.
| | |
| --- | --- |
| Paula: | Did anybody ever tell you that your eyes are so cute they kind of look like ping-pong balls? |
| Elmo: | Really? |
| Paula: | Yes, really. |
| Elmo: | Elmo thinks Mr. Jim Henson had something to do with that. (laughs) |
| Paula: | Well, Jim did good. |
| Elmo: | Yeah, Elmo misses Mr. Jim. |
| Paula: | I know you miss Mr. Jim. |
| Elmo: | Yeah. |
| Paula: | But aren't we glad we had him? |
| Elmo: | Yes! |
| Paula: | Yes, yes! |
| Elmo: | Or Elmo would not be here! |
| Paula: | Or Elmo would be a twinkle in someone's eye. |
| Elmo: | Elmo would be a red rock somewhere! (they both laugh) |
External links