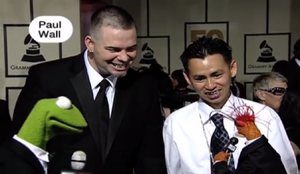 Paul Slayton (b. 1981), better known by his stage name Paul Wall, is an American rapper. He was interviewed by Kermit the Frog and Pepe the King Prawn on the red carpet of the 50th annual Grammy Awards. A video of his red carpet encounter was posted on Muppets.com in 2008. Wall, known for his blinged out grills, told Pepe that despite the prawn only having two teeth, he could "ice them out."
Ad blocker interference detected!
Wikia is a free-to-use site that makes money from advertising. We have a modified experience for viewers using ad blockers

Wikia is not accessible if you've made further modifications. Remove the custom ad blocker rule(s) and the page will load as expected.