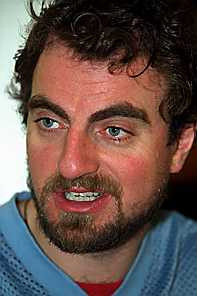 Paul Ottar Haga (b. 1965) is a Norwegian actor who voiced Bear in Bjørnen i det Store Blå Huset, the Norse dub of Bear in the Big Blue House.
Haga got his breakthough in the 1993 mini series Peer Gynt, based on the Henrik Ibsen played. He has also played a different role in the same play, for a production at the Norwegian Theater in Oslo. In 2006, he played Javert in a stage version of the musical Les Miserables.
Some of his animation credits include the Norwegian animated feature Free Jimmy, Disney's Home on the Range, Pixar's Finding Nemo (as Mr. Ray), Rango (Rattlesnake Jake), and the Danish live-action children's serial Pagten (dubbing school principal Poul). In 2012, he appeared in an episode of the Netflix original series Lilyhammer.