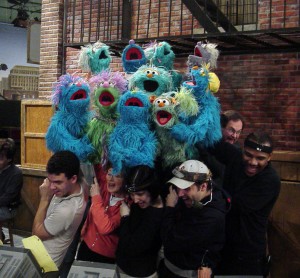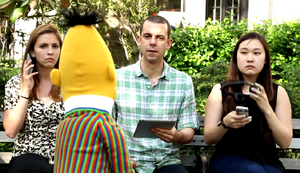 Paul McGinnis (b. July 23) has been a puppeteer on Sesame Street and related Muppet projects since 2001, assisting, as well as performing background characters and occasional speaking roles.
Sesame Street credits
Sesame Street: Ambulance Driver, others
The West Wing: Elmo (right hand)
Healthy Habits for Life (PSAs)
Top Chef - Season 8, Episode 10
Smell Like a Monster viral video: Clam
NPR - 2/10/08
Good Morning America - 9/20/11, 5/10/13
The Chew - 4/2/12
The Isaac Mizrahi Show - August 6, 2003
Late Night with Jimmy Fallon - September 25, 2013
The Colbert Report - September 26, 2013
The Wendy Williams Show - September 25, 2013
The White House Easter Egg Roll - 2014, 2015
Macy's Thanksgiving Day Parade - various
Hollywood Bowl - July 2-4, 2004
Last Week Tonight with John Oliver - 9/2/2014, 4/17/2016
Saturday Night Live - April 11, 2015
Muppet credits
Non-Muppet puppeteering credits
Scooby-Doo (Scooby-Doo! Adventures: The Mystery Map)
Felt
Crash & Bernstein
Dog with a Blog
Warren The Ape (Robot, Jurgen, Warren Assist)
Little Shop of Horrors (2004 National Broadway Tour, 2008 Papermill Playhouse) Audrey II Puppeteer
Spike TV's 52 Most Irresistible Women
Greg the Bunny (Elephant Man)
the title of show show (Grampa)
Walking With Dinosaurs - The Arena Spectacular
The Wiz Live!
The Jack and Triumph Show
External links
Ad blocker interference detected!
Wikia is a free-to-use site that makes money from advertising. We have a modified experience for viewers using ad blockers

Wikia is not accessible if you've made further modifications. Remove the custom ad blocker rule(s) and the page will load as expected.