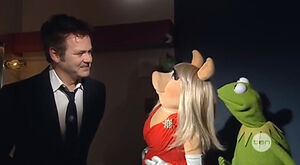 Paul McDermott (b. 1962) is an Australian comedian, writer, and singer. He is best known for his work with the musical comedy group, the Doug Anthony All Stars, and as presenter of the panel game show Good News Week.
McDermott hosted The Muppets in Montreal, an Australian airing of the Muppets' performance at the Just for Laughs festival. Although McDermott did not appear during the show itself, he appears in new framing material exclusive to the Australian telecast, including an interview with Kermit and Miss Piggy at the Place des Arts theatre in Montreal, Canada.
Ad blocker interference detected!
Wikia is a free-to-use site that makes money from advertising. We have a modified experience for viewers using ad blockers

Wikia is not accessible if you've made further modifications. Remove the custom ad blocker rule(s) and the page will load as expected.