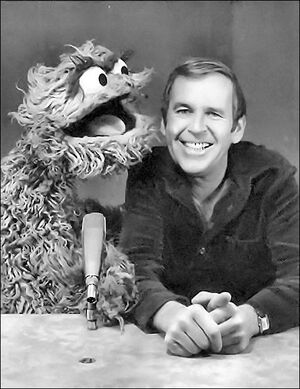 Paul Lynde (1926-1982) was an American comedian and actor of stage and television. Lynde is perhaps best remembered as the "center square" on the celebrity filled game show Hollywood Squares, on which the Muppets made many appearances.
Aside from Hollywood Squares, Lynde may be best remembered for his role as Uncle Arthur on the television series Bewitched, and for his role as Harry McAfee in the Broadway musical Bye Bye Birdie (in which he co-starred with Dick Van Dyke on both the stage and in the feature film adaptation).
Lynde also lent his voice to various animation projects, many with Hanna-Barbera (including The Perils of Penelope Pitstop as Sylvester Sneekly) and the all-star film Journey Back to Oz. Among Lynde's few big screen credits are roles in Beach Blanket Bingo and Disney's Son of Flubber.
External links