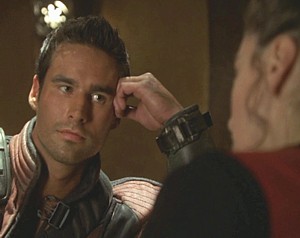 Paul Leyden (b. 1972) is an Australian actor best known for playing Simon Frasier on As the World Turns, a popular character which he has played on and off since 2000. Leyden also had a lead role in the short-lived 2004 NBC series LAX, opposite Heather Locklear. He has also appeared in a 2003 episode of Law & Order: Special Victims Unit.
In 1999, Leyden appeared in the first season Farscape episode "A Bug's Life" as Captain Larraq, a Peacekeeper officer who takes command of Moya.
External links
Ad blocker interference detected!
Wikia is a free-to-use site that makes money from advertising. We have a modified experience for viewers using ad blockers

Wikia is not accessible if you've made further modifications. Remove the custom ad blocker rule(s) and the page will load as expected.