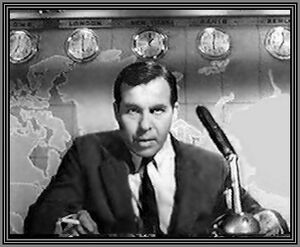 Paul Frees (1920-1986) was a prolific voice actor in radio, animation, film, record albums, and commercials. His record credits include collaborations with Stan Freberg and Spike Jones. In the latter's Spike Jones in Stereo, Frees was featured in "Poison to Poison" (later used as a soundtrack for Sam and Friends) as all character voices, including Alfred Hitchcock (played by Chicken Liver), Edward R. Murrow (Harry the Hipster), and the butler (Yorick).
In radio, Frees was a regular on the CBS anthology drama series Escape from 1947 through 1954, playing the opening narrator and many leads and supporting roles. He was also heard on Gunsmoke, Suspense, Crime Classics, Dr. Kildare, and countless others. In animation, his credits include many characters for Disney, notably Ludwig Von Drake; Boris Badenov, Captain Peachfuzz, and others on The Bullwinkle Show; many Rankin/Bass specials, including Burgermeister Meisterburger in Santa Claus Is Coming to Town and Santa himself in Frosty the Snowman; and one of his final credits, John Korty's Twice Upon a Time. Frees made his only on-screen appearance for Disney in the 1959 feature film, The Shaggy Dog.
External links
Ad blocker interference detected!
Wikia is a free-to-use site that makes money from advertising. We have a modified experience for viewers using ad blockers

Wikia is not accessible if you've made further modifications. Remove the custom ad blocker rule(s) and the page will load as expected.