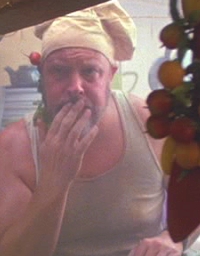 Paul Bartel (1938 - 2000) was an actor and director, best known for directing and starring in the 1982 black comedy Eating Raoul. He had a cameo in Follow That Bird, playing the cook at the Grouch-friendly Don't Drop Inn diner.
Bartel's other film appearances included Gremlins 2 and Ethan Hawke's Hamlet. The latter was one of his last films, as he died shortly thereafter of a heart attack at the age of 61.
External links
Ad blocker interference detected!
Wikia is a free-to-use site that makes money from advertising. We have a modified experience for viewers using ad blockers

Wikia is not accessible if you've made further modifications. Remove the custom ad blocker rule(s) and the page will load as expected.