Ad blocker interference detected!
Wikia is a free-to-use site that makes money from advertising. We have a modified experience for viewers using ad blockers

Wikia is not accessible if you've made further modifications. Remove the custom ad blocker rule(s) and the page will load as expected.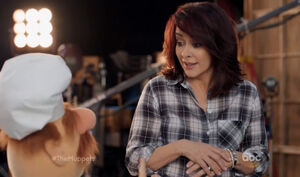 Patricia Heaton (b. 1958) is an actor most well known for playing Debra Barone on Everybody Loves Raymond (with Ray Romano), and Frankie Heck on The Middle. She has also appeared in the first Beethoven movie (with Charles Grodin), Space Jam (with Bugs Bunny), and Back to You (with Kelsey Grammer and Ty Burrell).
In August 2015, she appeared in a promotional spot for The Muppets with The Swedish Chef. She approaches Chef at the craft services table hoping to find some local-grown and/or organic options. When she can't understand a word he says, she walks away with just a bottled water. (YouTube)