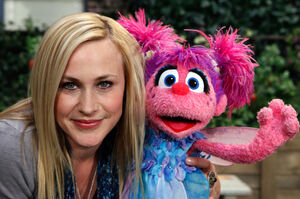 Patricia Arquette (b. 1968) is an American actress who starred on the television series Medium, and is the sister of actor David Arquette.
She appears in the 40th season of Sesame Street where she is turned into a Muppet penguin by Abby Cadabby in Episode 4201.
Arquette's other credits include Tim Burton's Ed Wood, David Lynch's Lost Highway, and Little Nicky (with Adam Sandler).
External links
Ad blocker interference detected!
Wikia is a free-to-use site that makes money from advertising. We have a modified experience for viewers using ad blockers

Wikia is not accessible if you've made further modifications. Remove the custom ad blocker rule(s) and the page will load as expected.