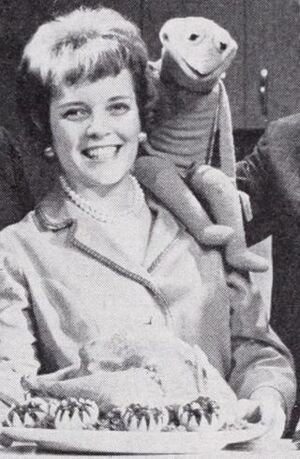 Pat Mackenzie was a television personality, commentator, hostess, and commercial performer. In the 1960s, she served as the spokeswoman for Esskay meats in a series of commercials taped in Baltimore. In many of these spots, she interacted with the Muppets of Jim Henson, particularly Rowlf the Dog and Kermit.
Active in television since at least 1957, Pat Mackenzie spent most of her career in South Bend, Indiana at station WNDU, where she starred on The Pat Mackenzie Show in 1959. She was considered the station's overall women's director/editor until 1960. She had a background as a sports reporter and tax consultant outside of her media career, and remained sporadically active in regional television. She later served as a tennis club coordinator in Michigan.[1]
Sources
↑ The Argus Press- June 27, 1975. "Pan-Arm Names Woman of the Year."
Radio Annual Television Yearbook listings of "Women Commentators," various years
Ad blocker interference detected!
Wikia is a free-to-use site that makes money from advertising. We have a modified experience for viewers using ad blockers

Wikia is not accessible if you've made further modifications. Remove the custom ad blocker rule(s) and the page will load as expected.