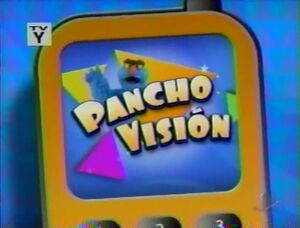 Pancho Visión is a recurring Plaza Sésamo segment hosted by Pancho Contreras, debuting in 2008. In each segment, Pancho shows off a video of kids from a certain country in the world as they explain about their traditions and cultures. After a brief film shot on location, Pancho comments on how much he likes that video before signing off. Sometimes his pet Elefancio is also there to watch as well. The segment returned for season 12, featuring new titles cards and bookends.
The segment is the Sésamo version of the American segment "Global Grover", even using some films used in Global Grover segments. A PSA about swine flu followed the format of the skit, where Pancho present a song about washing hands.
See also
Ad blocker interference detected!
Wikia is a free-to-use site that makes money from advertising. We have a modified experience for viewers using ad blockers

Wikia is not accessible if you've made further modifications. Remove the custom ad blocker rule(s) and the page will load as expected.