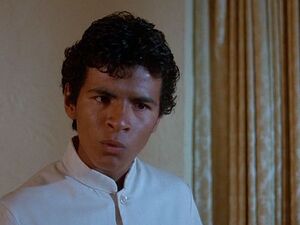 Panchito Gómez (b. November 2, 1963) played Antonio, Rafael's son[1] on Sesame Street Season 3, becoming the first child performer to receive billing in the credits. Gómez joined the show in 1971, when he was eight years old.
Gómez was born in New York City; his parents are from Dominican Republic and Ecuador. He appeared in several films and television shows before joining Sesame Street, including Triangle, a 1969 English-language film shot in Puerto Rico, Pepito, a 1970 Spanish-language film made in Colombia, and The Street of the Flower Boxes, an NBC special that aired in 1971.[2]
As a teenager and young adult, Gómez later played a variety of hoods and Latino gang members on Baretta, CHiPs, Simon & Simon, Barney Miller, Cagney & Lacey, and Hill Street Blues. Gomez's film work includes Selena and Mi Vida Loca.
Gómez's recent credits include guest spots on NYPD Blue in 2002, and CSI: Miami in 2003.
Sources
↑ Children's Television Workshop press release for Season 3, November 1971.
External links
Ad blocker interference detected!
Wikia is a free-to-use site that makes money from advertising. We have a modified experience for viewers using ad blockers

Wikia is not accessible if you've made further modifications. Remove the custom ad blocker rule(s) and the page will load as expected.