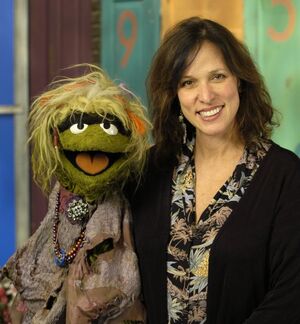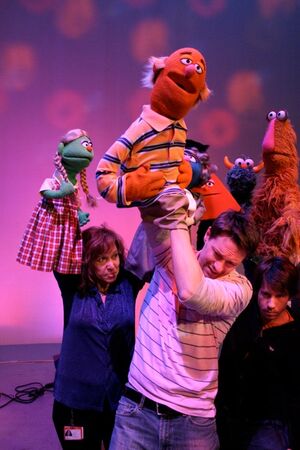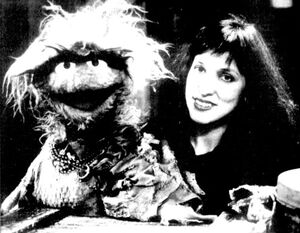 Pam Arciero (born May 8th, 1954)[1] is a puppeteer and voice-over artist who is best known in the Muppet world for her role on Sesame Street as Oscar the Grouch's girlfriend, Grundgetta.
A few years before joining Sesame Street, she had auditioned for the role of Mr. Snuffleupagus after Michael Earl left the show. She didn't get the part, but she eventually became a Muppet performer in 1982.[2]
Arciero earned her Master's in Puppetry from the University of Connecticut and has performed characters for numerous shows outside of the Muppet sphere, including The Great Space Coaster, Allegra's Window, Between the Lions (replacing Kathryn Mullen as Leona), Eureeka's Castle, and Lomax, the Hound of Music (as Louise)
She has also been active in the world of theater, including a stint at the Orpheum Theater with Little Shop of Horrors, and serving as director for several live shows at Sesame Place and El Capitan Theater in Los Angeles.
Arciero has served as Artistic Director for the prestigious O'Neill Puppetry Conference since 2002 and continues to participate in puppetry workshops and other events across the country.  She is also a graduate of The University of Connecticut's Puppet Arts program.
Muppeteer credits
Sesame Street: Grundgetta (1984 - present), Sally Wilson, Little Lizzy Hammertoe, Katie, Rosa, Vanessa, "Let's Go Driving" daughter, one of Ernie's friends from "Don't Throw That Trash on the Ground", Crystal of The Squirrelles (puppeteering only), Black and White Moo Wave cow (puppeteering only), Telly Monster (assistant), Abby Cadabby (assistant), Kermit the Frog's right hand in "I Love My Elbows"
Follow That Bird: Grundgetta
The Muppets Take Manhattan: Grundgetta
Sesame Street: 20 and Still Counting: Telly Monster (assistant)
The Muppets Celebrate Jim Henson: Grundgetta
The Wubbulous World of Dr. Seuss: Lulu's Dog
Sesame Street: A Is for Asthma: Grundgetta
Elmo Saves Christmas: Grundgetta
Last Week Tonight with John Oliver: Penguin
Sources
See also
External links
Ad blocker interference detected!
Wikia is a free-to-use site that makes money from advertising. We have a modified experience for viewers using ad blockers

Wikia is not accessible if you've made further modifications. Remove the custom ad blocker rule(s) and the page will load as expected.