Palisades Collector's Club


Talk

2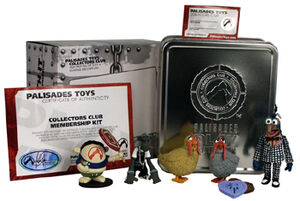 Palisades Toys started an online Palisades Collectors Club in 2002.
The club sold exclusive action figures (including Muppet Action Figures) which could only be purchased at certain conventions or stores. It also offered discounts and special promotions, such as lotteries with Industry Giveaway figures for prizes, and exclusive behind-the-scenes info and photos of upcoming products.
The club was founded after several complaints by collectors who could not get their hands on a Vanishing Cream Beaker Action Figure.
Muppet exclusives