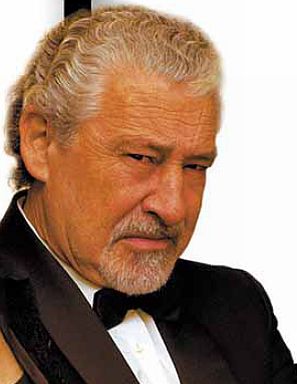 Paco Hernández is a Spanish actor and dubbing artist who has been heard in several Muppet/Creature Shop dubs. He dubbed Pa Gorg in Los Fraguel (Fraggle Rock), B.P. Richfield in Dinosaurios (Dinosaurs), K. Edgar Singer in Los Teleñecos en el Espacio (Muppets from Space), and the Rajah of Laputa in Gulliver's Travels. In El Cuentacuentos, the Castilian Spanish dub of The StoryTeller, Hernández dubbed The Giant and the Wolf in "The Heartless Giant" and The Troll and a prisoner in "The True Bride."
As an on-camera actor, Hernandez has appeared in such films as the 1996 Spanish Civil War drama Libertarias and La Gran Vida (with Salma Hayek). On television, like other dub actors, he has guest starred on the police drama El Comisario. His other dub credits include Pete Postlethwaite in James and the Giant Peach, Morgan Freeman in Batman Begins and other films, Patrick Stewart in the X-Men movies, James Earl Jones in Sandlot 2, and Paul Benedict in Cocktail. His animation dub credits include the Magic Mirror in Disney's Snow White and the Seven Dwarfs, Long John Silver in Treasure Planet, the narrator in Hercules, and Killer Croc on Batman: The Animated Series.
External links
Ad blocker interference detected!
Wikia is a free-to-use site that makes money from advertising. We have a modified experience for viewers using ad blockers

Wikia is not accessible if you've made further modifications. Remove the custom ad blocker rule(s) and the page will load as expected.