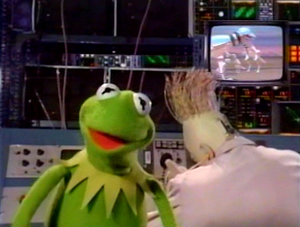 Pacific Data Images, now known as PDI/DreamWorks, is the computer animation production company behind such films as the Shrek franchise.
Pacific Data Images was responsible for animating the real-time computer graphics puppet character Waldo C. Graphic on The Jim Henson Hour and in Muppet*Vision 3D.
In the first episode of The Jim Henson Hour, PDI's short film "Chromosaurus" can be seen on one of the background monitors in Muppet Central.
See also
Ad blocker interference detected!
Wikia is a free-to-use site that makes money from advertising. We have a modified experience for viewers using ad blockers

Wikia is not accessible if you've made further modifications. Remove the custom ad blocker rule(s) and the page will load as expected.