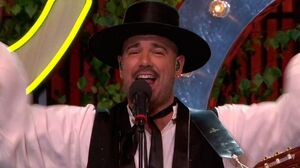 Pablo Cepeda (b. 1976), full name Juan Pablo Cepeda Basualto, is a Swedish/Chilean musician and composer who voiced Oscar the Grouch in Lek med mig i Sesam, the Swedish dub of Play with Me Sesame.
In 2002, he participated in the Swedish qualifying round for the Eurovision Song contest with the song "Adrenaline"; it finished last in the final. He tried again in 2006 with the song "La chica de la copa", which did not make it to the final. In addition to playing music, Cepeda also works as a voice actor. Some of his credits include Happy Feet 2 (Ramon), Beverly Hills Chihuahua (Bill) and The Secret life of Pets.
Ad blocker interference detected!
Wikia is a free-to-use site that makes money from advertising. We have a modified experience for viewers using ad blockers

Wikia is not accessible if you've made further modifications. Remove the custom ad blocker rule(s) and the page will load as expected.