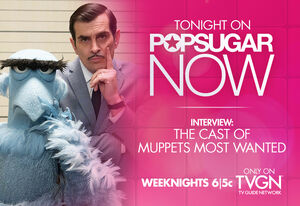 POPSUGAR Now is a television program on the American channel TVGN. The March 13, 2014 episode featured interviews with Muppets Most Wanted stars Tina Fey, Ty Burrell, and Miss Piggy.
The episode also included red carpet interviews with the cast of Captain America: The Winter Soldier, and a review of Veronica Mars.
External links
Ad blocker interference detected!
Wikia is a free-to-use site that makes money from advertising. We have a modified experience for viewers using ad blockers

Wikia is not accessible if you've made further modifications. Remove the custom ad blocker rule(s) and the page will load as expected.