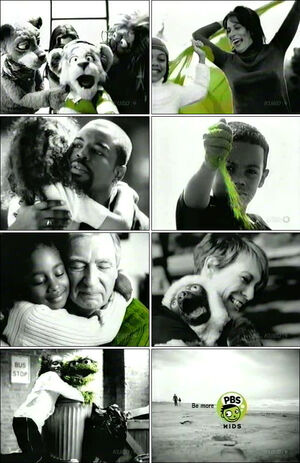 PBS Interstitials often feature Sesame Street characters among characters from other PBS shows.
One "Be More" interstitial features Oscar the Grouch, Liam Neeson, Jane Kaczmarek, LeVar Burton, Jamie Lee Curtis, Virginia Madsen, Fred Rogers, Raquel Castro, several Between the Lions characters, Zoboo, the lemur character from Zoboomafoo, Clifford the Big Red Dog, aardvark Arthur Read and his mom, the "PBS KIDS" cartoon characters, a bunch of kids, and more. The interstitial plays to the song "You Gotta Be" by Des'ree. In a later airing, the song would alternate with "Only You", performed by the "New Rythm and Blues Quartet" (NRBQ). This interstitial was filmed and aired before Fred Rogers' passing in early 2003.
Big Bird appeared in a one minute sequence in which he appears at the home of a child and ventures to the Berlin wall, a landing on the Moon and other locations. The announcer says "TV can be a child's window to the world. What will they see?"
An interstitial from 2009, which plays the song "With My Own Two Hands", features newly recorded footage of the Count, among children and characters from other PBS shows. The video plays out in the style of a sing-a-long clip, displaying the lyrics at the bottom of the picture.
In another interstitial from 2009, Grover appeared in an interstitial making a fort with a little girl out of bedsheets. Arthur, Curious George and Clifford the Big Red Dog also appeared in the spot.
See also