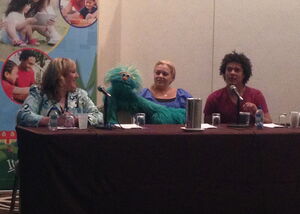 The PBS Annual Meeting (usually abbreviated as "PBSAM") is an annual conference held to showcase the upcoming ventures from PBS.
In 2012, Roscoe Orman, Elmo and a chicken appeared to promote season 43 of Sesame Street.
In 2013, Sesame Street's presentation included a panel featuring Carol-Lynn Parente, Ismael Cruz Córdova and Carmen Osbahr with Rosita, a screening of "Counting the "You"s in YouTube" and a sizzle reel of the 44th season and a live performance of "Rhymes for Mando" by Córdova and Rosita.
In 2014, Cookie Monster appeared to help promote season 45 of Sesame Street.