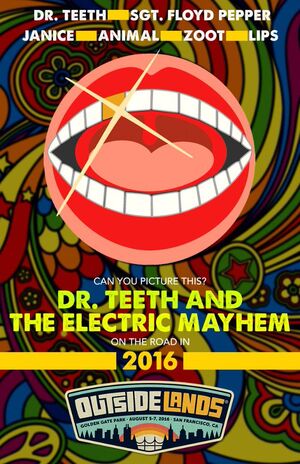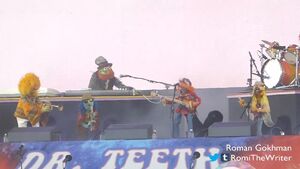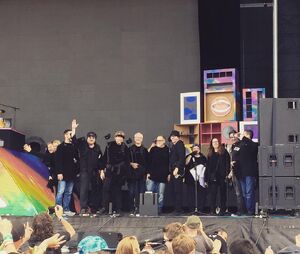 The Outside Lands Music and Arts Festival is a music festival held annually in San Francisco, California, at Golden Gate Park. The first festival occurred in 2008, and included over 60 musical acts from around the world, as well as several art installations.
Dr. Teeth and the Electric Mayhem appeared at the Outside Lands in 2016 during the festival which ran from August 5th to August 7th. The band's appearance took place on August 7th at 4PM PT and lasted roughly 24 minutes. Other featured artists include Radiohead, Lionel Richie, Duran Duran, Third Eye Blind, and Sufjan Stevens.
The concert was live-streamed on the Outside Lands website as well as through the go90 app. After the concert, Animal and Floyd appeared once more in a roughly 10-minute interview section between Kehlani's and Chance The Rapper's performances.
The Electric Mayhem band (sans Zoot and Lips) appeared in a special web video that was released on April 5, 2016 to announce the festival's 2016 line-up. (YouTube) The 4-minute video was directed by Kirk Thatcher.[1]
Set List
Notes
When introducing "Ophelia," the band members list the names of the performer's wives, including Caren (Rudman), Kelly (Vogel), Debbie (Goelz), Melissa (Whitmire), Cristina (Barretta) and Mary (Jacobson).
Aside from the 6 main Muppet performers, additional performers for this appearance were Julianne Buescher, Tim Lagasse, Mike Quinn, Alice Dinnean, Michelan Sisti, and Kevin Carlson.[2]
Description
according to the band's bio on the festival's website listing[3]
"They've been called 'rock & roll legends,' 'hipster icons' and 'those painfully loud next door neighbors,' but Dr. Teeth and The Electric Mayhem think of themselves as simply a group of friends who are musicians and their only goal in life is to make audiences shake, rattle and groove.
In addition to travelling in their rainbow-hued bus, The Electric Mayhem is the house band for Up Late with Miss Piggy, featured on the primetime ABC television series the muppets.
The Mayhem, as they are known among Mayhem-heads, features: Dr. Teeth – Keyboardist and head groove master; absotively possolutely the founder and fearless leader of the band, Animal – Dynamic drummer and powerhouse percussionist, known for three styles of play: loud, louder and deafening, Janice – Lead guitarist, resident flower child and astral projectionist, Sgt. Floyd Pepper – Bass guitarist, Animal's handler and connoisseur of cool, Zoot – Shade-wearing saxophonist who doesn't say much and Lips – Trumpet virtuoso known for his jazzy brass and talking even less than Zoot."
Gallery
Sources
↑ Facebook post from Bill Barretta.
External links