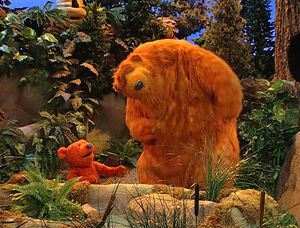 Pip and Pop often hang out at the Otter Pond. It is also home to Harry the Duck, his mom, and his sister, Hallie. Additionally, various other creatures sometimes hang out at the Otter Pond, including Benny, Christine, and Big Old Bullfrog.
The general area of the Otter Pond is filled with plants, including bushes filled with berries. Bear and Ojo visit there to pick berries for triple-berry pie in "If at First You Don't Succeed..."
The Otter Pond was the site of a special nighttime party in "And to All a Good Night."
Ad blocker interference detected!
Wikia is a free-to-use site that makes money from advertising. We have a modified experience for viewers using ad blockers

Wikia is not accessible if you've made further modifications. Remove the custom ad blocker rule(s) and the page will load as expected.