PERFORMER
various
DEBUT
1979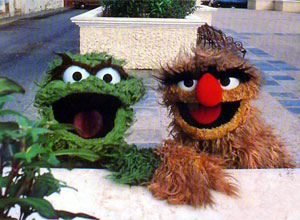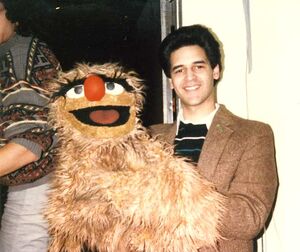 Osvaldo, el Gruñón (Oswald the Grouch) is a Grouch who lives in Puerto Rico. He first appeared in the Season 11 premiere of Sesame Street, voiced by Norberto Kerner and puppeteered by Richard Hunt.[1][2] After the week of shows in Puerto Rico, he re-appeared in Episode 1325, where he visited Oscar in New York, and then in Episode 1443, where he becomes an air steward for a Grouch airline. He then made an appearance the following season, visiting in Episode 1557.
He was then performed by Gabriel Velez in subsequent seasons on the show, including Episode 2003.[3] In his latest appearance (episode 3258), he was performed by Peter Linz.
The Osvaldo puppet has the ability to move his eyes, and also appears as a background Grouch, sans nose (such as in Follow That Bird). The puppet also appeared briefly in A Muppet Family Christmas.
Book appearances
Sources
↑ Old School: Volume 3 DVD (2012). Sonia Manzano audio commentary on Episode 1316.
See also