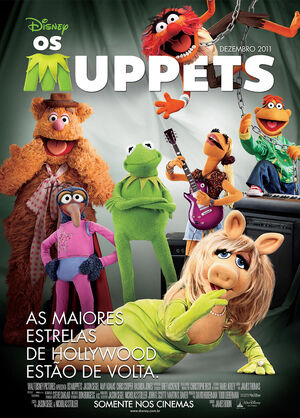 Country (Language)
Brazil
(Brazilian-Portuguese)
Released
December 2, 2011
Running time
98 minutes
Dubbing Studio/
Localization
Script Translator/Editor
Voice Director
Musical Adaptation
Local Rating
Os Muppets is the Brazilian-Portuguese dub of The Muppets. It is the film's first dub to receive a home video release after the original American version, which was on video eight days prior to the Brazilian video release.
Posters
Promotion
The extensive promotional campaign included unique theatrical trailers, new Brazilian-Portuguese dubs of the Muppet viral videos, TV appearances (including the trailer in the Brazilian series Disney Planet), TV spots, a Kermit T-shirt, Fini candy bottles featuring Kermit, Miss Piggy and Gonzo, the Radio Disney exhibit at the Start with You festival, magazine appearances (including Kermit in an issue of Quem), Cinemark drinks (sponsored by Fanta), bobble-head miniature versions of Kermit, Miss Piggy, Fozzie Bear and Animal and four Muppet collectible cards. Most of the videos were made available through the WaltDisneyStudiosBR (Brazil) YouTube channel.
Releases
External links
Ad blocker interference detected!
Wikia is a free-to-use site that makes money from advertising. We have a modified experience for viewers using ad blockers

Wikia is not accessible if you've made further modifications. Remove the custom ad blocker rule(s) and the page will load as expected.