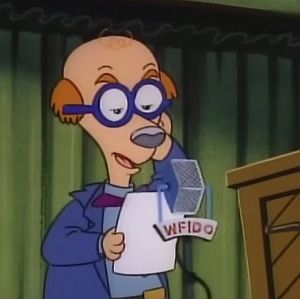 Orson Welp is a dramatic director and staff announcer at station WFIDO, as seen in the Dog City episode "Radio Daze." Welp both announces and directs the radio serial It's a Dog's Life.
Welp later made a brief appearance as a WFIDO commercial announcer in the second season episode "Boss Bruiser," introducing Ace Hart's paid commercial time.
The character's name parodies Orson Welles, who during his work on The Mercury Theater of the Air, would direct, star, adapt, and even read the cast announcements himself (personally identifying the players and their roles, uncommon).
Ad blocker interference detected!
Wikia is a free-to-use site that makes money from advertising. We have a modified experience for viewers using ad blockers

Wikia is not accessible if you've made further modifications. Remove the custom ad blocker rule(s) and the page will load as expected.