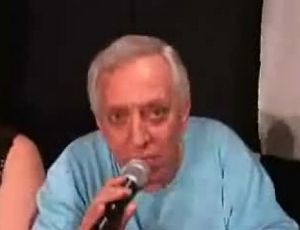 Ortlando Viggiani (b. 1949) is a Brazilian voice actor who dubbed Kermit the Frog (Caco, o sapo) in several Muppet movies. He began by dubbing the singing of Scooter and secondary characters on the Brazilian dub of The Muppet Show and took over as Kermit for later episodes.
Viggiani began his dubbing career in 1962, as an adolescent. He dubbed Elroy on The Jetsons, and years later, would dub George Jetson in the 1980s episodes. He went on to dub Michael Nesmith on The Monkees and David Cassidy on The Partridge Family. Viggiani retained a higher-pitched voice as an adult, which in addition to dubbing excitable types (Rick Moranis in the Ghostbusters movies) lent itself well to youthful figures or protagonists. Examples include Michael J. Fox in the Back to the Future movies, Tom Hanks in Big, Keanu Reeves in Dracula, Ethan Hawke in Gattaca, John Leguizamo in Super Mario Bros., and Blake McIver Ewing in The Little Rascals.
Cartoon roles in a similar vein include Mickey Mouse in the 80s and 90s, Jonny Quest in the 80s series, Bamm-Bamm in I Yabba Dabba Doo, Ryu in the Street Fighter II anime, and Dick Grayson/Robin in Batman & Mr. Freeze: Sub-Zero.
Muppet dubbing credits
External links