Ad blocker interference detected!
Wikia is a free-to-use site that makes money from advertising. We have a modified experience for viewers using ad blockers

Wikia is not accessible if you've made further modifications. Remove the custom ad blocker rule(s) and the page will load as expected.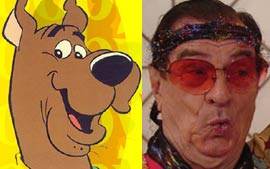 Orlando Drummond
is a actor, comedian, voice actor, and radio personality in
Brazil
. He was the voice of General Luft and an alien in
Muppets do Espaço
, the Brazilian Portuguese dub of
Muppets from Space
. Drummond also voiced
The Ghost of Christmas Present
in
Um Conto de Natal dos Muppets
(
The Muppet Christmas Carol
).
Best known for his character Escolinha do Professor Raimundo (roughly "Professor Raymond Newbie"), he dubbed the leads in ALF, Popeye, and Scooby-Doo, alongside Mário Monjardim's Shaggy. Drummond has personally played the role of Scooby-Doo since 1974.
Other roles include characters in The Smurfs, Winnie the Pooh, Alice in Wonderland, Peter Pan, Mary Poppins, Rocky III and IV, Odo to Paulo Flores' Sisko on DS9, and characters like Yogi Bear, Oliver Hardy, Q in James Bond films, and Martin Crane on Frasier. He dubbed at least four Walter Matthau roles.