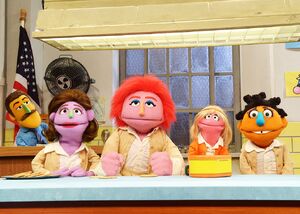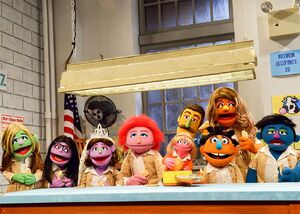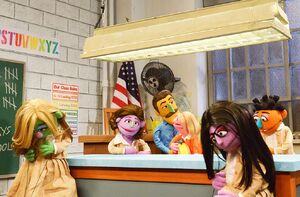 Orange is the New Black is a Netflix original series that premiered in 2013. Based on the memoir by Piper Kerman, it tells the story of a women's prison in upstate New York.
References
Sesame Street Episode 4604 features a spoof of the series entitled "Orange is the New Snack," starring Prairie Dawn as "Piper Snackman." Set in Litchfield Academy, the sketch features Muppet versions of the characters, including Googily Eyes (Suzanne "Crazy Eyes" Warren), Red (Galina "Red" Reznikov), Forlorna (Lorna Morello), Mr. Mustache (George "Pornstache" Mendez), August, Citizen, Aimee, Bailey and Avery. (YouTube)
Mentions
In the season two episode "Hugs Can Be Deceiving," Grace asks her sister, "Suzie, you want the Chipmunks or the Muppet Babies sleeping bag this time?" She answers, "I'll take the Muppets tonight."
In the season three episode "Finger in the Dyke," Cindy asks Taystee how she can like a song that just lists the days of the week, "like it's Sesame Street or some shit."
In the season three episode "Ching Chong Chang," Alex tells Piper that her new job is "better than being stuck down in that sweaty basement with the fucking puppets from The Dark Crystal."
Also in the season three episode "Ching Chong Chang," Alex gives Morello some bird factoids, among them the fact that Big Bird is yellow.
In the season three episode "Don't Make Me Come Back There", Diaz tells Mendoza that she left her daughter's baby in the care of her boyfriend, and Mendoza replies, "You really think that man can handle another one? It's like the Muppet Babies up in his house."
In the season five finale "Storm-y Weather," Black Cindy, having given lithium to Suzanne which caused her to pass out, says, "I was just trying to do the best I could, all right?" Taystee replies back, "Well, ain't that some Sesame Street BS?"
Connections
Sources
Ad blocker interference detected!
Wikia is a free-to-use site that makes money from advertising. We have a modified experience for viewers using ad blockers

Wikia is not accessible if you've made further modifications. Remove the custom ad blocker rule(s) and the page will load as expected.