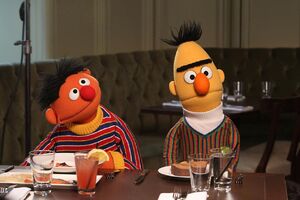 Oprah: Where Are They Now? is a reality reunion show hosted by Oprah Winfrey that airs on the Oprah Winfrey Network.
Ernie (Billy Barkhurst) and Bert (Eric Jacobson) appeared on the show on December 21, 2014 in a scene filmed in and around Central Park, as well as Tavern on the Green. Matt Vogel portrayed an Anything Muppet make-up artist in the segment.

External links
Ad blocker interference detected!
Wikia is a free-to-use site that makes money from advertising. We have a modified experience for viewers using ad blockers

Wikia is not accessible if you've made further modifications. Remove the custom ad blocker rule(s) and the page will load as expected.