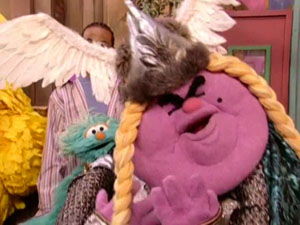 An opera singer features in the song "Music of the Street" in episode 4081 of Sesame Street. Miles and Gabi are trying to illustrate to Rosita that everyone has a different way of talking that makes them sound unique. This woman appears to demonstrate that some people speak in song. She also appeared during the song "Everything's Coming Up Noses."
The puppet had originally been used as Big Head in the Muppet Meeting Films and would later be recycled as the Blimp in Statler and Waldorf: From the Balcony.
The puppet is wearing the fat lady opera singer dress he wore in his final appearance as Big Head.