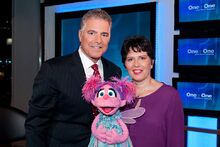 One-on-One with Steve Adubato is a talk show on NJTV, produced by the Caucus Educational Corporation. On the January 20, 2016 episode, Dr. Jeanette Betancourt and Abby Cadabby appeared on the program to discuss the series' autism initiative, Sesame Street and Autism: See Amazing in All Children.
The episode also included guests Marlo Thomas and Steve Woll.
External links
Ad blocker interference detected!
Wikia is a free-to-use site that makes money from advertising. We have a modified experience for viewers using ad blockers

Wikia is not accessible if you've made further modifications. Remove the custom ad blocker rule(s) and the page will load as expected.