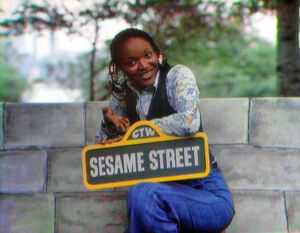 Olivia Robinson is Gordon's sister, who worked as a photographer. She first appeared in a 1976 episode with Gordon. She was officially welcomed to Sesame Street by Oscar the Grouch a week later.
Olivia appeared on Sesame Street from 1976 (Season 8) to 1988 (Season 19). In the 1985 film Follow That Bird, she searches for Big Bird with Gordon, Linda, Cookie Monster, and Grover in a yellow Volkswagen bug.
Some of her notable appearances on the show include comparing photography with Oscar in Episode 1217, taking Herry Monster to (and inspiring him to become) an eye doctor in Episode 1261, dating a piano tuner named Bernie in Episode 1859, performing at Birdland in Episode 2447 and Episode 2504, and singing opera with Placido Flamingo in Episode 2517.
She was also present for several milestones on Sesame Street including Miles' adoption, the trips to Hawaii and Puerto Rico, explaining Mr. Hooper's death to Big Bird in Episode 1839, and searching for Big Bird in the Metropolitan Museum of Art in Don't Eat the Pictures with some kids.
Songs
Olivia is known for performing many songs on Sesame Street, as well as in the specials and movies:
She also performed songs on Sesame albums, including:
Specials appearances
Book appearances