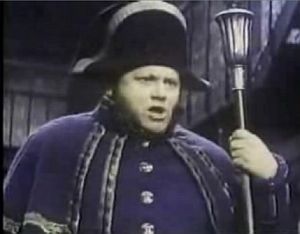 Oliver! is a British musical, with music and lyrics by Lionel Bart, based upon the novel Oliver Twist by Charles Dickens. Premiering in London's West End in 1960, a Broadway production was mounted in 1963 and an Academy Award-winning film adaptation followed in 1968. The show has been revived on numerous occasions, and is a staple among regional, community and high school theatres.
Many of the songs from the musical have become standards. One such number, "Consider Yourself," has been performed on multiple occasions, including performances on Sesame Street and The Muppet Show.
References
In episode 3906 of Sesame Street, a member of the Porridge Lovers and Baby Bear share the "Please, sir, I want some more!" exchange as she requests more porridge.
In Grover's 140 character speech for the Shorty Awards, one of them is Oliver Twist.
Connections
External links
Ad blocker interference detected!
Wikia is a free-to-use site that makes money from advertising. We have a modified experience for viewers using ad blockers

Wikia is not accessible if you've made further modifications. Remove the custom ad blocker rule(s) and the page will load as expected.