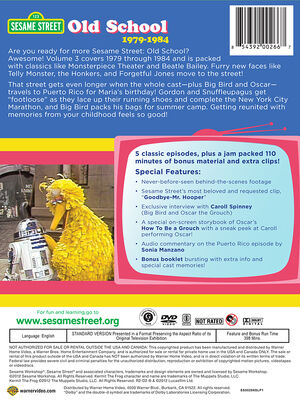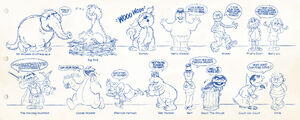 Old School: Volume 3 is a Sesame Street DVD released on November 6, 2012. Following two previous volumes which included the season premieres from seasons one to ten (1969 to 1979), this box set includes the season premieres from seasons eleven through fifteen (1979 to 1984). Bonus features include "classic cuts" from the 1979 to 1984 seasons plus behind-the-scenes footage.
Description
DVD Features
Disc 1
Disc 2
Edits
All the episodes are presented without the Sesame Street opening and closing credits.
Notes
External Links
Ad blocker interference detected!
Wikia is a free-to-use site that makes money from advertising. We have a modified experience for viewers using ad blockers

Wikia is not accessible if you've made further modifications. Remove the custom ad blocker rule(s) and the page will load as expected.