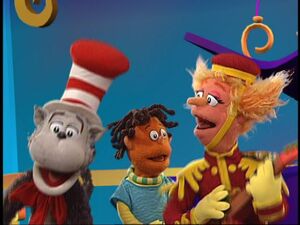 "Oh, the People You'll Meet" is a song sung by the Cat in the Hat and Ms. Buttons about all the people that Jeremy Jalloo will meet as he grows up. The neat thing about this song is that the Cat sings and changes into costumes while they ride in an elevator. And Ms. Buttons jams out on a guitar too.
The song is featured in the Wubbulous World of Dr. Seuss episode "Oh, the People You'll Meet".
Ad blocker interference detected!
Wikia is a free-to-use site that makes money from advertising. We have a modified experience for viewers using ad blockers

Wikia is not accessible if you've made further modifications. Remove the custom ad blocker rule(s) and the page will load as expected.