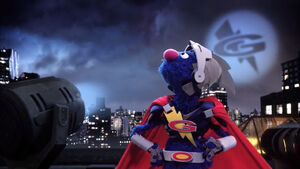 Ofur-Groddi are the Icelandic dub of Super Grover 2.0. The show premiered on RUV in November 2014. The episodes were dubbed by Studio Syrland, Reykjavik.
Character Translations and Voices
Additional voices
Víðir Guðmundsson
Álfrún Örnólfsdóttir
Inga Maria Valdimarsdóttir
Ævar Þór Benediktsson
Sigríður Eyrún Friðriksdóttir
Additional credits
Translation by: Guðfinna Rúnarsdóttir.

Dubbing Director and Project Leader: Rósa Guðný Þórsdóttir.

Technicians: Friðrik Sturluson, Ívar Baldvin Júlíusson.

Dubbing Studio: Sýrland
Ad blocker interference detected!
Wikia is a free-to-use site that makes money from advertising. We have a modified experience for viewers using ad blockers

Wikia is not accessible if you've made further modifications. Remove the custom ad blocker rule(s) and the page will load as expected.