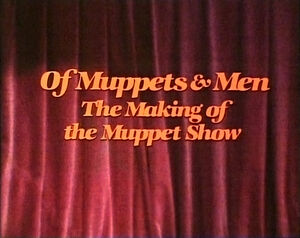 Of Muppets and Men is a 52 minute documentary produced during the fifth season of The Muppet Show. It was syndicated in 1981.
The documentary features appearances by Muppet Show performers Jim Henson, Frank Oz, Dave Goelz, Louise Gold, Richard Hunt, Jerry Nelson, Kathryn Mullen, Steve Whitmire, Brian Muehl and Betsy Baytos; writers Jerry Juhl, Don Hinkley, David Odell, and Chris Langham; director Peter Harris; producer David Lazer; and guest stars Roger Moore and Raquel Welch.
Video releases
See also
Ad blocker interference detected!
Wikia is a free-to-use site that makes money from advertising. We have a modified experience for viewers using ad blockers

Wikia is not accessible if you've made further modifications. Remove the custom ad blocker rule(s) and the page will load as expected.