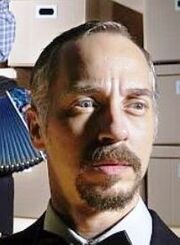 Oberdan Júnior (full name Oberdan de Souza Gonzalez Jr.; b. 1970) is a Brazilian actor who has dubbed many TV shows and films. In Brazilian Portuguese dubs, he was heard as Scooter in Muppet Babies, and Miss Piggy in Muppets do Espaço (Muppets from Space).
He has dubbed the lead in Steven Spielberg's Tintin feature, Piglet in Winnie the Pooh, Wicket in Ewoks, and Linus for Peanuts specials. He has appeared as a lead in various telenovelas, multiple award winning stage plays, and a variety of films.
Ad blocker interference detected!
Wikia is a free-to-use site that makes money from advertising. We have a modified experience for viewers using ad blockers

Wikia is not accessible if you've made further modifications. Remove the custom ad blocker rule(s) and the page will load as expected.