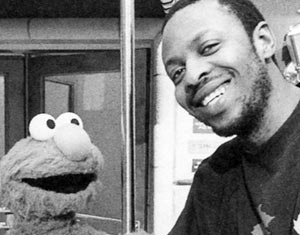 Nyanga Tshabalala is an internationally accomplished puppeteer, puppet trainer, writer and director. He performs Zikwe on Takalani Sesame, South Africa's Sesame Street co-production. He was also one of six South Africans who spent six-month affiliations with Sesame Workshop to studied multi-media educational programming and trained with Jim Henson Productions in New York on Muppet making and costume design.
He is fluent in English, IsiZulu, Sesotho, IsiXhosa, Siswazi, Afrikaans, and Setswana.
External Links
Ad blocker interference detected!
Wikia is a free-to-use site that makes money from advertising. We have a modified experience for viewers using ad blockers

Wikia is not accessible if you've made further modifications. Remove the custom ad blocker rule(s) and the page will load as expected.