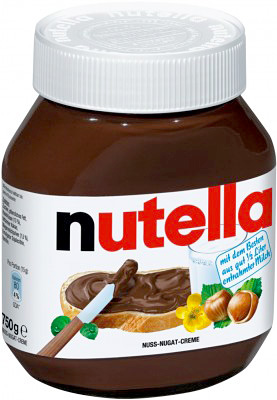 Nutella is a popular chocolate-hazelnut bread spread that is being sold internationally. Italian company Ferrero has been producing the product since 1949.
In 1987, Nutella featured six Muppet Show Bügelbilder (iron-ons) in German language countries. The iron-ons were sold "blind-boxed," folded up under the jars' lids, and featured humorous tag lines and catch phrases alongside the characters' images.
A limited set of special promotional diorama boxes was sold with a jar of Nutella, all six iron-ons, and five of the Schleich Muppet PVC figures, namely Animal, Fozzie Bear, Gonzo, Kermit the Frog, and Miss Piggy.
The following year, the company produced Muppet themed Milch-Schnitte snacks.
References