Numbers!
Talk

0
26,423pages on
this wiki
Redirected from Numbers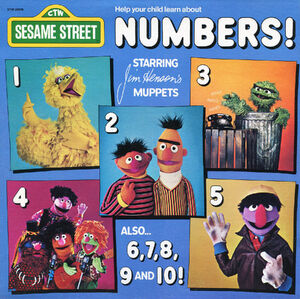 Numbers! is a concept album that features songs about the numbers from 1 to 10, all of which were written by Jeffrey Moss. This album was later released as part of the 3-LP boxed set Letters, Numbers and Signs, and also as part of the 2-LP set The Count Presents Numbers.
The CD version was released in 1995. Big Bird's introduction to the song "Just One Me" was slightly edited on this release.
Track listing
Side One
Cast
Other releases
International releases
See also