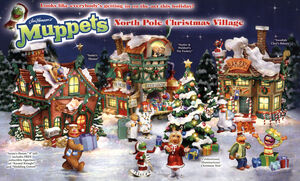 The Bradford Exchange produced The Muppets North Pole Christmas Village in 2007 under the Hawthorne Village brand. The series consists of three hand-painted, Christmas village buildings that light up: "Santa's House," "Statler and Waldorf's Toy Factory," and "The Swedish Chef's Bakery." Each sculpture is sold separately and limited to 295 production days.
Ten figurines go with the set in all, five of which are included for free when all three sculptures are purchased. Featured are "Kermit Kringle," magnetic "Sledding Gonzo," "Ravishing Miss Piggy," "Merry Swedish Chef," magnetic "Rollicking Rizzo," Animal, Scooter, Dr. Bunsen Honeydew and Beaker.
External links
Ad blocker interference detected!
Wikia is a free-to-use site that makes money from advertising. We have a modified experience for viewers using ad blockers

Wikia is not accessible if you've made further modifications. Remove the custom ad blocker rule(s) and the page will load as expected.