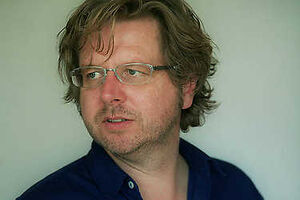 Norbert ter Hall (b. October 6, 1966) is a Dutch director and screenwriter who served as a director on Sesamstraat, the Dutch co-production of Sesame Street.
His non-Henson directing work includes drama series like Circus Waltz, an NPS/VARA/VPRO co-production featuring Aart Staartjes in the leading role of terminally ill circus owner Willy Waltz and Theo Maassen as his eldest son Bruno, and Mevrouw de minister (Madam Minister), once again (guest) starring Staartjes and Maassen.
Ter Hall also directed the 2006 remake of comedy TV series 't Schaep met de 5 pooten[1] (1969). The original series featured Adèle Bloemendaal in a lead role. Bloemendaal returned in a recurring guest role in the remake, that guest starred Theo Maassen and Huub van der Lubbe as well. Both versions featured music composed by Harry Bannink.
Sources
↑

The title literally means 'The Sheep with the 5 Legs', and refers to the name of the lead location of the show, a local café.