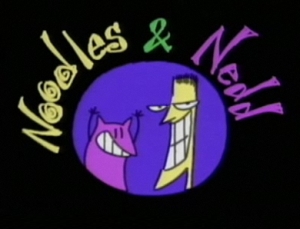 Noodles & Nedd appeared in animated segments on Sesame Street, beginning in 1997. The series, which involved pantomime slapstick, focused on Nedd, an eccentric man, and his somewhat more intelligent cat Noodles. Each short ran for approximately one-minute.
Created by John R. Dilworth, the pair initially debuted in a 1996 independent film short, Noodles & Nedd, and returned in a sequel, Catch of the Day, in 2000.
Credits
Creator/Director/Announcer: John R. Dilworth
Music: Jody Gray
Assistant Animator: Pilar Newton
Skits
Ad blocker interference detected!
Wikia is a free-to-use site that makes money from advertising. We have a modified experience for viewers using ad blockers

Wikia is not accessible if you've made further modifications. Remove the custom ad blocker rule(s) and the page will load as expected.