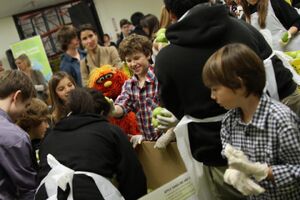 Nolan Gould (b. 1998) is a child actor best known for his role as Luke Dunphy on the ABC sitcom Modern Family.
Murray Monster from Sesame Street and Gould volunteered at the Los Angeles Regional Food Bank on November 15, 2011. The segment was released on YouTube, two days later. (YouTube)
External links
Ad blocker interference detected!
Wikia is a free-to-use site that makes money from advertising. We have a modified experience for viewers using ad blockers

Wikia is not accessible if you've made further modifications. Remove the custom ad blocker rule(s) and the page will load as expected.